What Is Recycled Water?
Marina Coast Water District (MCWD) owns and operates six wells that pump water from the local groundwater sources.  This water is then treated to meet drinking water standards and meets the regulatory classification of potable water.  As water is used throughout the area it is collected as wastewater down our drains and sent to Monterey One Water (M1W) for treatment.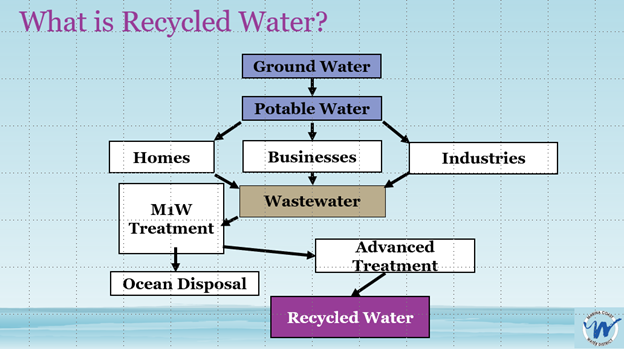 By utilizing water treatment technology, we can now take advantage of this valuable local resource and recycle it to reduce the strain on our groundwater sources.  Recycled water is wastewater that has undergone advanced water treatment to be a safe and consistent water quality for non-drinking or non-potable use.
Since recycled water is manufactured from wastewater, which can contain substances hazardous to human health, the treatment process is carefully managed by licensed professional engineers and treatment plant operators, and it is heavily regulated to ensure that recycled water is safe to use
MCWD receives our recycled water from the Monterey One Water advanced purification facility. More information on the specific technology used to treat recycled water is available on the M1W website.
Advanced-treated recycled water can be used for virtually all non-potable applications due to the high level of treatment the water receives: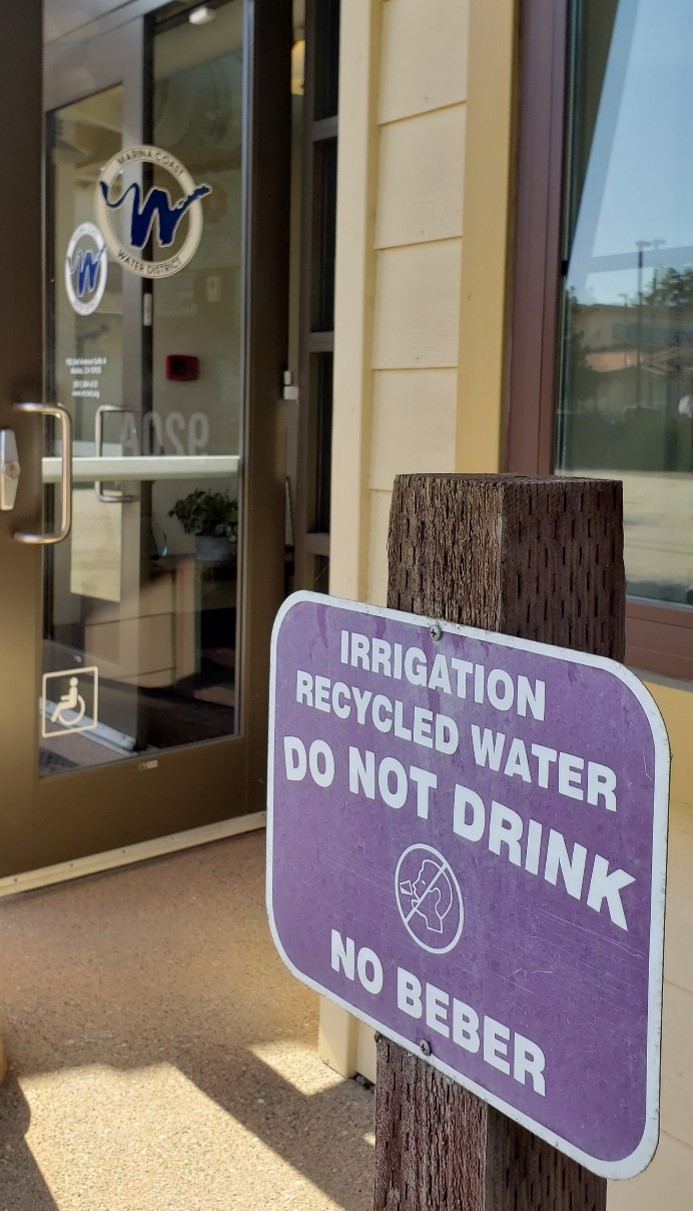 Urban Landscape – Parks and playgrounds, schoolyards, unrestricted access golf courses, residential landscaping, freeway and roadway landscaping, cemeteries, ornamental nurseries, and sod farms.
Agriculture – food crops for human consumption, orchards, vineyards, fodder, fiber and seed crops, non-fruit bearing trees, pasture for milking animals.
Impoundments – Restricted and unrestricted (full-body contact) recreational impoundments, decorative lakes and fountains, fish hatcheries.
Industrial – Industrial processes (e.g., paper manufacturing, carpet and textile dyeing, boiler feed), cooling towers and air conditioning, non-residential toilet, urinal and floor drains, structural and non-structural firefighting, commercial laundries, commercial car washes, concrete mixing, construction (dust control, soil compaction, backfill consolidation around pipelines, including potable), street and sidewalk cleaning, flushing sanitary sewers, snow making.)
Benefits of Recycled Water
There are many reasons why communities throughout the world and USA have chosen to use reclaimed water.  Often it is used to save potable or drinking water from wells for uses like drinking, cooking, and bathing.  Every gallon of recycled water used to irrigate parks or golf courses frees up a gallon of drinking water that would have been used instead.
Irrigating with recycled water is making use of a valuable resource that would otherwise be discarded while simultaneously preserving groundwater supplies for future increases in drinking water demands.
The amount of recycled water available is generally less affected by drought than traditional potable water sources, meaning users have a reduced risk of losing expensive landscaping due to water shortages and potential mandatory rationing.
Regulations and Rules
Rules and regulations for the end use of recycled water are established and/or enforced by the California Central Coast Regional Water Quality Control Board (Regional Board), the State DDW, and MCWD. All facilities using recycled water must be designed and operated to meet the standards of all governing codes, rules, and regulations.  The regulations place strict requirements on the uses of recycled water to add an additional redundancy of protection to protect the public.
For the protection of public health, recycled water uses shall comply with Federal, State, and Local regulations and guidelines including, but not limited to:
California Health and Safety Codes (Division 104, Part 12)
California Water Code (Division 7; Chapters 2, 7, and 7.5)
Title 22 California Code of Regulations (Division 4, Chapters 1, 2, and 3)
Title 17 California Code of Regulations (Division 1, Chapter 5)
Marina Coast Water District Recycled Water Ordinance (Title 4, Chapter 4.28 of the Marina Coast Water District Code)
California State Water Resources Control Board Order WQ 2016-0068 DDW
Copies of these regulations may be obtained from the MCWD or online at the State DDW's website.

Recycled water use is also subject to the requirements of the State Water Resources Control Board (SWRCB) Order WQ 2016-0068-DDW. A copy of these requirements can be obtained online at the SWRCB's website.

These rules and regulations are contained in a Notice of Applicability, Enrollment in the General Recycled Water Permit issued to the MCWD by the Regional Board.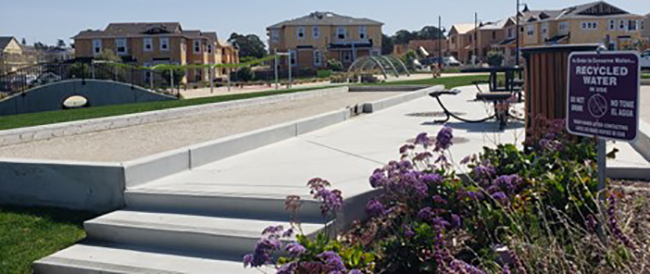 How Is MCWD Recycled Water Used?
MCWD's recycled water provides a drought-proof solution for irrigation across the peninsular.   MCWD recycled water at this point in time is not for drinking or for other uses inside your home.  MCWD is in the process of issuing permits to allow the cities and other large non-residential irrigation operators, such as parks, golf courses, and medians, in the area to operate on recycled water. Every gallon of recycled water used for these purposes saves a gallon of ground water.
How Can I Get Recycled Water?
A permit is required to ensure the safe use of recycled water. MCWD's recycled water is for non-residential sites only, such as golf courses, roadway medians, parks, schools, and business parks as approved in our Tittle 22 Engineering Report.   A copy of the MCWD Title 22 Engineering Report can be found here:  https://www.mcwd.org/engineering_forms_documents.html
If you would like to apply for an On-Site Recycled Water Permit, please see the Permit Process Overview section within this website.